"She Tamed The Beast"

Federal Criminal Client
"Top 50 Women"

Super Lawyers
"Saved My Career As A Doctor"

Criminal Client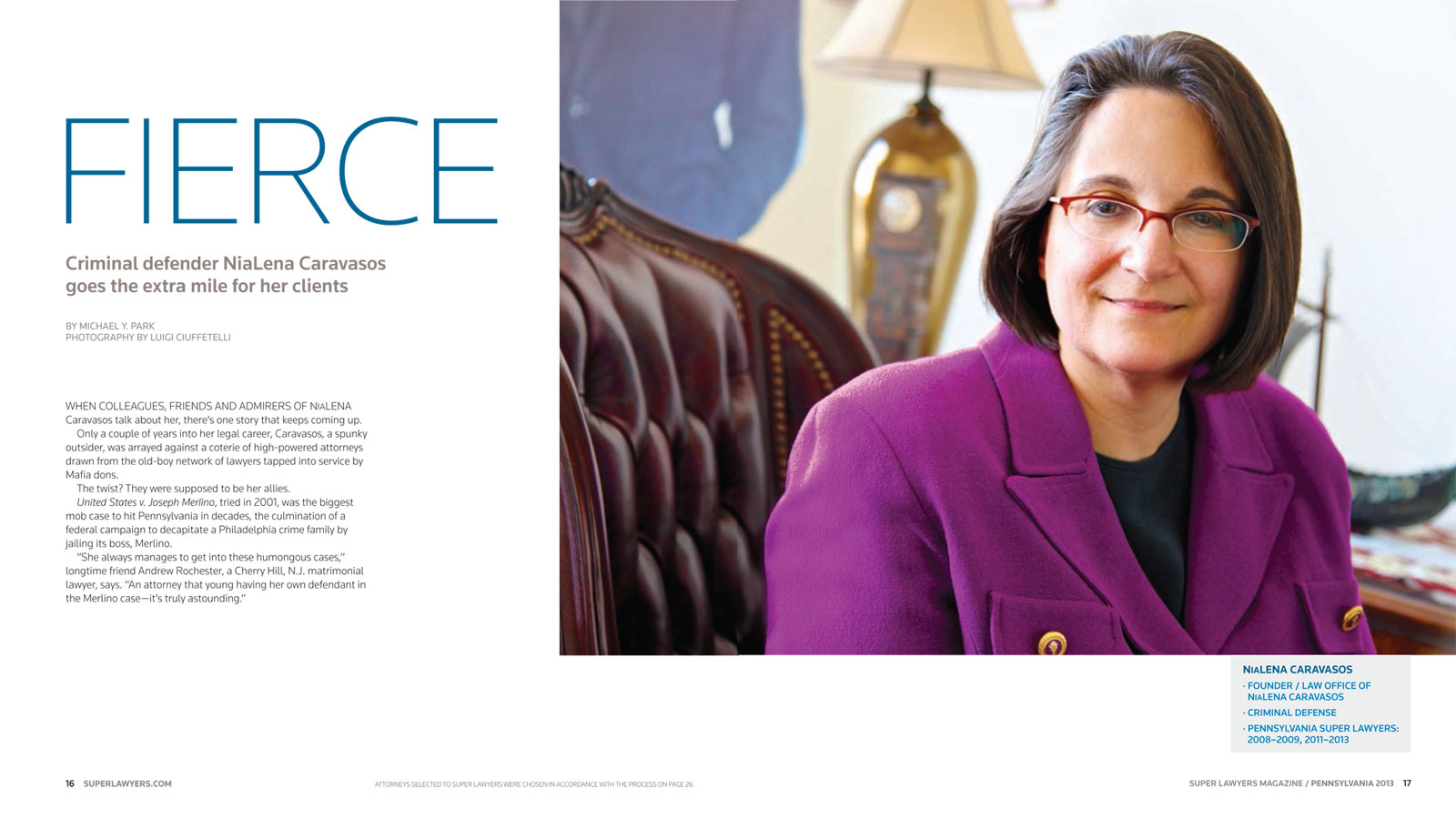 FEATURED ON "SUPER LAWYERS" COVER IN
PHILADELPHIA MAGAZINE & IN ARTICLE ENTITLED "FIERCE"
Federal Criminal Defense - Passionate Advocacy
NiaLena is a passionate and relentless advocate who doesn't take no for an answer and who has earned the reputation nationally as well as internationally as one of the top federal criminal defense lawyers in both Philadelphia and Pennsylvania and of not being afraid to separate her clients and fight individually, strategically, creatively, and relentlessly. Through her boutique law practice, she gives personal, undivided, and often 'round-the-clock attention to all clients in an effort to provide the absolute best defense possible. As a strong believer in Robert Frost's "The Road Not Taken," NiaLena often chooses to travel "the road less traveled by" and, as a result, many of her courtroom successes as a criminal defense lawyer have come in matters that others considered hopeless.
Unlike most other lawyers, NiaLena embraces her clients foremost as human beings and employs a uniquely holistic approach in representing them, for she recognizes that people who have come under criminal scrutiny usually face a myriad of other deep-rooted problems far beyond the boundaries of their immediate legal case. Also unlike most of her colleagues, NiaLena holds a degree from the prestigious Wharton School, along with first-hand experience in international business, and is therefore able to relate to and understand in a distinctly personal way many of the unique challenges encountered by white collar criminal defendants. Moreover, NiaLena has a proven reputation of charting her own course in putting her clients first and doing right by them, stemming from her representation of a high-ranking mafia member as the youngest and only female lawyer who was unafraid to break ranks with the old-boy network of other criminal lawyers representing the codefendant mobsters.
It is NiaLena's rare legal and human qualities that set her apart and that culminated in her being chosen as the subject of a feature story entitled "Fierce" that was written about her by Super Lawyers along with her selection as the only criminal defense lawyer to ever be featured on the Super Lawyers cover in Philadelphia Magazine. Additionally, in 2023, NiaLena was featured once again on the cover of the special 20th year anniversary edition of the Super Lawyers Magazine along with other very accomplished and esteemed colleagues, including Tom Kline (Kline & Specter, P.C.) and Bob Mongeluzzi and Anna Durbin and Bernard Smalley. As such, NiaLena is the only Philadelphia criminal lawyer ever featured twice on the Super Lawyers cover. Her continued dedication to forging her own unique and holistic approach in representing clients and restoring them to good lives has also resulted in being heralded once again in 2023 for the fourth year as the top of the best by her selection in both the "Top 100" Super Lawyers for the entire state as well as the "Top 100" Philadelphia Super Lawyers among lawyers in all practice areas. NiaLena is also proud that her unique qualities have been further recognized by her repeated selection in 2023 for the eighth year as one of the "Top 50 Women" Super Lawyers in Pennsylvania among women in all legal practice areas as well as her continuous selection for the fifteenth year as a Super Lawyer.
It is these same rare legal and human qualities that resulted in NiaLena being selected in 2021 by an international non-profit organization featuring Inspirational People around the world. NiaLena is humbled and honored to be the first of only two lawyers in the United States to be interviewed and featured among other individuals including business leaders, professors, Nobel prize winners, Olympic gold medalists, etc. who are regarded not only as most successful in their respective fields but also as inspirational due to the manner in which they practice in their respective fields and serve as role models to younger individuals.
NiaLena concentrates her law practice primarily in federal criminal defense and in very serious state criminal cases and represents individuals who have received target letters and/or grand jury subpoenas or are otherwise under federal criminal investigation as well as individuals who have come under federal indictment or have been otherwise charged with crimes. She has substantial experience in high-profile federal criminal cases and in extremely complicated federal criminal cases involving extensive electronic surveillance and wiretaps.
The breadth of her experience includes defending cases under investigation by various agencies, including but not limited to U.S. Department of Homeland Security (DHS); United States Secret Service (USSS); National Security Agency (NSA); Federal Bureau of Investigation (FBI); Drug Enforcement Administration (DEA); Bureau of Alcohol, Tobacco and Firearms (ATF); Office of Inspector General (OIG); U.S. Immigration and Customs Enforcement (ICE); Internal Revenue Service (IRS); National Aeronautics and Space Administration (NASA); U.S. Small Business Administration (SBA); and United States Postal Inspection Service (USPIS). Throughout the years, NiaLena has achieved successful results in difficult cases including but not limited to RICO / racketeering, organized crime, corrupt organizations, conspiracy, white collar crime, fraud (including but not limited to mail fraud, wire fraud, loan fraud, bank fraud, tax fraud, mortgage fraud, investment fraud, access device fraud, health care fraud, Medicare fraud, insurance fraud, honest services fraud, passport fraud, paycheck protection program fraud / PPP Fraud, COVID-19 fraud), international crimes (including but not limited to falsifying export documents and smuggling goods), financial crimes (including but not limited to embezzlement and money laundering), corruption (including but not limited to political corruption, public corruption, bribery), obstruction of justice, false statements to law enforcement, perjury, illegal trafficking (including but not limited to drug / narcotics trafficking, firearms / weapons trafficking), sex crimes (including but not limited to rape, sexual abuse, child pornography), computer crimes, crimes involving woman-owned and minority businesses, violent crimes (including but not limited to death penalty homicides, arson, various degrees of murder, manslaughter, aggravated assault), post-trial matters (including but not limited to PCRA and federal habeas), federal sentencing issues (including but not limited to downward departures and variances), various types of investigations (including but not limited to federal grand jury investigations, criminal investigations, and internal investigations), and mediation.
NiaLena's federal criminal defense practice extends not only to the Eastern District of Pennsylvania (including Philadelphia and its surrounding counties of Delaware County, Montgomery County, Bucks County, Berks County, Chester County, Lehigh County, Lancaster County, and Northampton County) and the Middle District of Pennsylvania (including Harrisburg, Scranton, Williamsport, and Wilkes-Barre), but also to the District of New Jersey (including Camden, Trenton, and Newark), the Washington, D.C. Metro area and Eastern District of Virginia, and multiple jurisdictions in the United States. NiaLena's varied clients throughout the years have included the following:
ABC News (Federal Trial of Senator Vince Fumo)
Federal Criminal Defense Lawyer Featured Internationally Among "Inspirational People"
Alleged made members of La Cosa Nostra (LCN);
Medical doctors and pharmacists and nurses from various states in the U.S.;
A National Security Agency (NSA) employee with the highest clearance level, Top Secret (TS) and Sensitive Compartmented Information (SCI), working overseas in the area of global intelligence;
A powerful politician;
A high-ranking federal government official in one of the bureaus of the U.S. Department of Justice;
A high-ranking federal government official from the central banking system of the U.S.;
Alleged kingpins of major drug trafficking organizations;
Principal of nationwide advertising agency;
Arab Americans, Russian-Ukrainian Americans, Albanian Americans, Asian Americans, and numerous other ethnic backgrounds;
CEO of an out-of-state mortgage company;
World-touring musician;
Olympic boxer hopeful;
Fellow Lawyers;
Federal Law Enforcement Officers and Police Officers;
Disabled veteran who proudly served our country;
Business Executives, Accountants, and Financiers;
University students;
Many other fellow citizens.
Early in her career, NiaLena was the youngest and only female attorney to defend a reputed organized crime figure in the federal RICO prosecution of United States v. Joseph Merlino. As described in the "Super Lawyers" feature article entitled "Fierce" that was written about NiaLena, she "wanted to buck the top-down strategy the rest of the defense team had devised" and "do the right thing" for herself and her client as the "spunky outsider" who was "arrayed against a coterie of high-powered attorneys drawn from the old-boy network of lawyers tapped into service by Mafia dons." Following a trial that lasted nearly five months and that marked the first time that an alleged mob boss, Ralph Natale, became an informant and testified on behalf of the government against his own alleged crime family, the jury acquitted her client, Frank Gambino, of attempted murder and racketeering charges. NiaLena's closing argument was subsequently selected among nationwide submissions and spotlighted as featured defense advocate by Center for Criminal Justice Advocacy in Houston and is also being used to this day as a teaching tool by professors nationwide.
She subsequently became lead counsel in serious multi-defendant federal and state criminal cases and was also the youngest and only female member of the defense trial team representing Senator Vincent Fumo, long regarded as the most powerful politician in Pennsylvania, in his five-month high-profile white collar political corruption trial in federal court. At trial, NiaLena was the co-author of an emergency motion that made headline news in various local and national forums, including The New York Times and ABC News, regarding the request to halt the jury deliberations based upon the novel legal issue of social networking on Internet sites such as Facebook and Twitter by a juror during the Senator's political corruption trial.
Currently retained to represent a Vice President of the Federal Reserve Bank as well as a pharmacist and a global exporter of automobiles to the Middle East and Far East and previously retained to represent a high-ranking federal government official in one of the bureaus of the U.S. Department of Justice as well as a Washington D.C. senior executive of a Fortune 500 financial company and a New York Arab-American businessman, NiaLena has been described by the Pulitzer Prize-winning Philadelphia Daily News as a "deliberate," "sincere," "extremely thorough," and "tireless advocate" with "courtroom poise" who "allows no legal issue to escape her attention" and by one of the most respected and recognized crime reporters in the country, George Anastasia, in The Last Gangster as "no-nonsense." Her efforts to always leave no stone unturned were also acknowledged on the record during her representation of the principal of a nationwide advertising agency in the United States District Court for the Eastern District of Pennsylvania when the Honorable Paul S. Diamond stated, "You've gone to an enormous … you've put an enormous amount of work into this. I want you to know how much I appreciate all the work you've done. I certainly hope your client appreciates it as well."
After interning in the District Attorney's Offices of both Philadelphia and Cambridge (Massachusetts), NiaLena served as Law Clerk to the Honorable Lisa Aversa Richette, a very prominent jurist and civic giant and independent thinker, of the Homicide Program of the Court of Common Pleas in Philadelphia. NiaLena credits Judge Richette for her many teachings, perhaps the primary of which was to show her the way and help her develop the compassion and the ability to truly see her clients as much more than defendants and to embrace them as human beings. In the many intervening years of her private practice, NiaLena has been able to cultivate Judge Richette's teachings and affect the course of many of her clients' lives in enormously positive ways. Just as NiaLena's clients always express their gratitude to her, it is equally important for NiaLena to be able to acknowledge and thank Judge Richette for showing her the way to be able to help her clients in ways that far transcend the immediate boundaries of their legal cases.
In 1997, NiaLena joined the firm of the former District Attorney of Philadelphia, F. Emmett Fitzpatrick, where he taught her much about the practice of federal criminal defense as her beloved mentor during many wonderful years together. NiaLena became a partner of Mr. Fitzpatrick and his son, F. Emmett Fitzpatrick III, in F. Emmett Fitzpatrick, PC in 2003, and the firm was renamed Fitzpatrick & Caravasos, PC in 2006. Following Mr. Fitzpatrick's retirement from the practice of law, NiaLena established her own law firm where she continues to concentrate her practice in the area of federal criminal defense.
NiaLena is honored and humbled that so many people from various walks of life have put their faith and trust in her during some of the darkest hours of their lives. Moreover, NiaLena very much appreciates all of the wonderful reviews posted by clients who placed their trust and their lives in her hands as well as endorsements posted by colleagues on Avvo, some of which are highlighted above and also on the Quotes by Others and Case Successes pages of this website.