"Top 100 Trial Lawyers"

The National Trial Lawyers
"PA Law Firm Of The Year
In Criminal Law & White Collar Crime"

Corporate INTL Magazine
"She's Not An Indian. She's A Chief."

Private Investigator
F. Emmett Fitzpatrick is well-known not only for his numerous high-profile federal criminal cases through the years but also for having served the City of Philadelphia as the elected District Attorney from 1974 through 1978.
Prior to his retirement, he devoted a lifetime to helping people and to a trial practice of federal and state criminal defense. Outside the courtroom, Mr. Fitzpatrick enjoyed teaching advanced trial techniques at Widener University School of Law as well as numerous educational seminars on a regular basis.
Further, he testified as a legal expert in various court proceedings and also appeared frequently as a legal commentator on radio and television programs, including WPVI's Inside Story.
Federal RICO Trial, U.S. District Ct, Eastern District of PA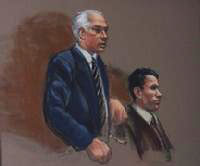 Murder Trial of Alleged Mob Figure, Raymond "Long John" Martorano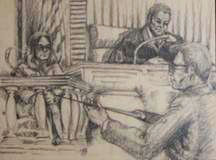 Often acclaimed as a "master orator" as well as the "dean of criminal defense lawyers," Mr. Fitzpatrick enjoyed countless trial successes throughout the decades, both locally as well as in out-of-state jurisdictions.
Among his countless well-known successes are the acquittals of numerous well-known figures, such as high-ranking Teamsters official, Frank Sheeran, the rare and precedent-setting victory of freeing alleged made member of the mob, Raymond "Long John" Martorano, from prison on the grounds of prosecutorial misconduct and double jeopardy, and acquittals for various alleged organized crime figures in federal RICO prosecutions, such as United States v. John Stanfa, where he secured acquittals for two separate alleged made members of La Cosa Nostra (LCN), Gaeton Lucibello and Luigi "Gino" Tripodi.
NiaLena always fondly called her mentor "Captain," a reference from the movie Dead Poets Society. Throughout their years of practice together, NiaLena had the honor and the privilege and the sheer fun of trying numerous federal criminal cases together with her beloved mentor and former law partner, the most high-profile of which was the highly publicized organized crime case entitled United States v. Merlino, et al.
At the conclusion of a federal criminal trial that lasted almost five months in which Emmett, described by the press as the "anchor of the defense team," represented alleged LCN made member John Ciancaglini and NiaLena represented alleged LCN made member Frank Gambino, the jury acquitted their respective clients of murder, attempted murder, and racketeering charges.
During a brilliant law career that spanned half a century, Emmett gained the respect and the love of many people, including judges, colleagues, clients, and friends. An example of some of the beautiful sentiments expressed by many is reflected in the letter below: