Significant victory in the highly publicized organized crime case entitled United States v. Joseph Merlino, et al. At the conclusion of a federal criminal defense trial in the U.S. District Court for the Eastern District of Pennsylvania which lasted almost five months, the jury acquitted NiaLena's client, Frank Gambino, an alleged made member of La Cosa Nostra (LCN), of attempted murder and RICO / racketeering charges.
As described in the "Super Lawyers" feature article entitled "Fierce" that was written about NiaLena, she "wanted to buck the top-down strategy the rest of the defense team had devised" and "do the right thing" for herself and her client as the "spunky outsider" who was "arrayed against a coterie of high-powered attorneys drawn from the old-boy network of lawyers tapped into service by Mafia dons."  


The Pulitzer Prize-winning Philadelphia Daily News described NiaLena as an "extremely thorough" and "tireless advocate [who] allows no legal issue to escape her attention" as well as the "youngest and lone female attorney" who is "a thorough advocate with courtroom poise beyond her years." Mob On Trial: For The Defense ... The Greatest Lawyers On The East Coast.  


NiaLena's closing argument was subsequently selected among nationwide submissions and spotlighted as featured defense advocate by Center for Criminal Justice Advocacy in Houston and is also being used to this day as a teaching tool by professors nationwide. 
Closing Argument During Merlino/Gambino Mob Trial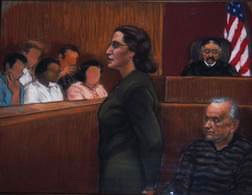 With relentlessly aggressive and pinpoint strategy over the course of one and a half years, NiaLena successfully represented a high-ranking leader in the Ironworkers Union Local 401 who was charged in the United States District Court with Racketeering (RICO) Conspiracy, Attempted Arson, and numerous counts of Extortion in a multi-defendant federal criminal indictment with voluminous electronic surveillance. 
In the client's own words, "The day I got indicted was one of the lowest points in my life. My family retained a lawyer for me and ... I was not impressed by him or the way he told me he was going to work my case ... so I decided when I got home to search the internet [and] came across NiaLena." "I emailed her and she promptly responded." The client continues to explain that "the meeting was quite different from the other lawyers, [as] NiaLena was courteous and showed that she cared about my family and me, that she would be there for us no matter what time of day or night. She was always, and still is very reachable and diligent." NiaLena "was up to the challenge ahead of her to take me on as a client in this high profile RICO conspiracy case in Philadelphia against Ironworkers Local 401, [where] I was facing a 60 year sentence for various charges. But with her out of the box thinking and work ethic and never-tiring attitude NiaLena made a very bad situation a very, very good one. I know that without NiaLena I would not have gotten a sentence of a couple years to serve in a camp. I would probably be worse off if I hired a different attorney because I first-hand saw the representation the other defendants in the case received and the sentences they are receiving." The client continues to describe that "NiaLena in my opinion is the best attorney in Philadelphia. Her Meticulous, Ethical, Courteous ways give her clients the best outcome in all of her cases. She truly is amazing!!" The full client review entitled "Meticulous NiaLena" is posted on Avvo.com.